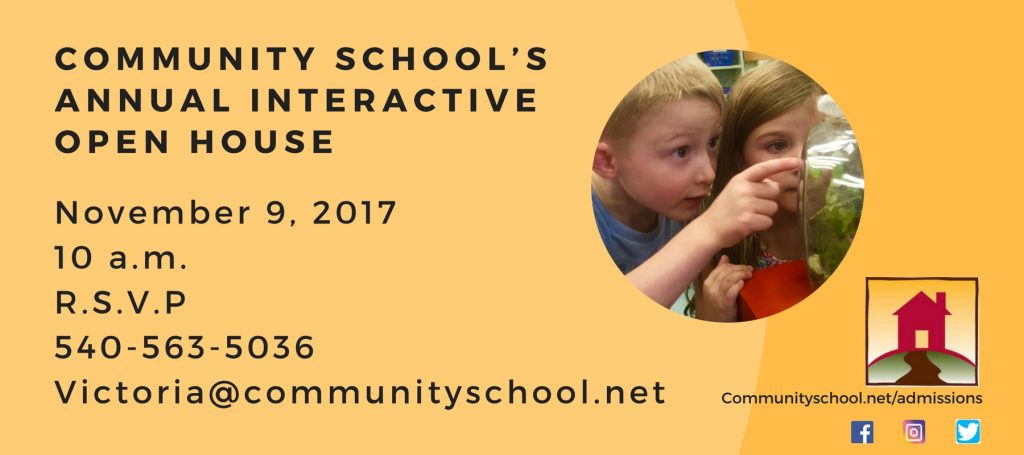 Community School provides education of the highest quality for students of all racial, cultural, religious, ethnic, national and economic backgrounds.
When your child joins our school community, we want to get to know your family and to explain our philosophy and curriculum as clearly as possible. The admissions process includes required parent tours and student visits, as well as applications. This ensures the learning environment is a good fit for you and your child. If at any time you have questions, please contact the Admissions Office.
Not on our current list to receive our admissions e-newsletter? Click here to receive information about admissions, open houses and information sessions, financial aid, and campus highlights.
---
Upcoming Admissions Events:
Annual Interactive Open House
Date: November 9, 2017
Time: 10 a.m.
Location: 7815 Williamson Road, Roanoke, VA 24019
Registration: Call 540-563-5036 or e-mail victoria@communityschool.net for information or to sign up for the open house.
This event is open to the general public, and parents are welcome to bring their children. It is a great introduction for parents interested in exploring the private school options available in the Roanoke Valley. Community School is currently accepting applications for fall 2018.
Visit our classrooms while class is in session. Student and parent tour guides will walk you through Community School addressing questions about curriculum, learning experiences and projects.
Short demo classes for different age groups
Displays of student work with try-it-yourself learning activities
Classroom tours guided by middle school students and parents
For more information contact victoria@communityschool.net.