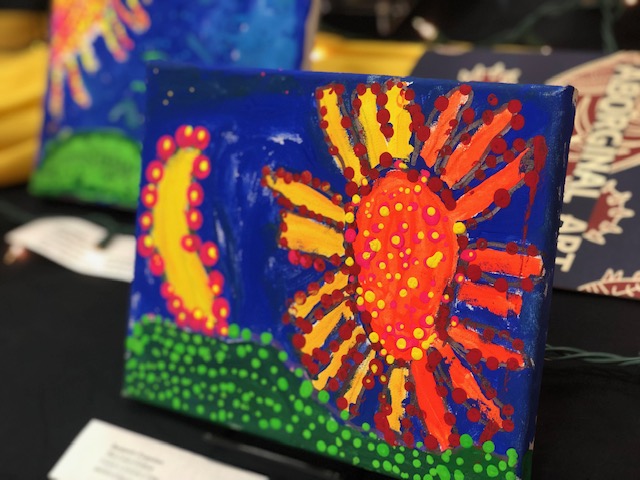 Community School uses a thematic approach to integrate music, the visual arts, drama, mindfulness, and movement into the core curriculum.
Music
Our music curriculum encourages students to learn how to perform, create, and respond to music.
All classes use the Yamaha Music in Education Keyboard Lab to experience and learn about music. Preschoolers focus on movement, listening, singing and creating while older elementary students also learn to play classroom instruments such as recorder and ukulele. Middle school students add music history, music technology, and theme-centered activities. Students enjoy opportunities for individual lessons, performance choirs and instrumental groups. All students participate in the annual Community School Arts Festival, along with other performance opportunities at a local nursing home and other venues.
Drama
Our drama curriculum encourages students to express themselves creatively and to discover their creative process and potential. Students learn to work both individually and as a team to build a space of discovery, community and active listening. Students are exposed to improvisation, scene studies and movement studio classes to develop visual and spatial awareness, kinesthetic awareness, musicality, interpersonal and intrapersonal skills. We work to expose the global history of theater and dance at each age group. All students work to develop social and emotional awareness, emotional regulation and impulse control. Students are encouraged to take risks and find their voice through multiple modes of expression. We work to develop performance and production skills both in a studio setting and on a main stage. All students will perform in the annual Community Arts Festival.
Visual Arts
The art program at Community School serves to introduce students to a variety of art media while utilizing art as a vehicle for personal expression. Students work in the art studio in two-dimensional and three-dimensional work and study a variety of artists and cultures for inspiration. Projects integrate with the school's yearly theme and correlate with lessons in core subjects. Each student participates in two school art shows each year and has work published on the online art museum "Artsonia." Art Club, offered to middle school students, meets weekly to work on projects and community shows.