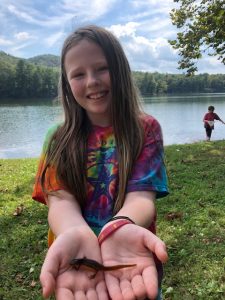 "…we caught salamanders and slept in tents, did fish prints and animal tracks. I learned how to crochet! Well sort of. And we used face paint rocks. We cheered on a bird named Kail…I named him, anyway we thought he was stuck but apparently he was just fishing. I got to tell a story at the camp fire!" Zoe
Only about 10 percent of kids say they spend time outdoors every day according to a nationwide poll by the Nature Conservancy. What are they doing instead? The American Academy of Pediatrics reports that most children are spending an average of 7 hours a day on electronic entertainment media.
"I played with salamanders, ate yummy food, (especially the pasta!) collected trash, ate s'mores, played go fish, hiked, and saw two snakes! My favorite part was helping salamanders! I learned a lot there!" Rose
While outdoor learning is an essential part of our daily curriculum, Community School sets aside 3 school days in October to focus on getting our students and parents to disconnect from their screens and connect with each other and the natural world instead. This tradition, known as Fall Festival, ranges from day trips and campus activities for younger students and their families to multi-day camping trips for older elementary and middle school classes.
"I looove Fall Festival! The food is great, the activities are awesome, s'mores are scrumpcious! Everything about Fall Festival is straight out awesome! And the awesome factor got upped by salamanders!" Charlotte
Are you picking up on a theme in our student quotes? Learning about salamanders made a big impression on this year's elementary camping trip, but that was only one of many exciting activities and experiences.
"This was my first camping trip. There were lots of activities. I went fishing and wading. My group had a big tent it had a secret room. I almost caught a fish but the hook got stuck on a stick and the fish got away." Juda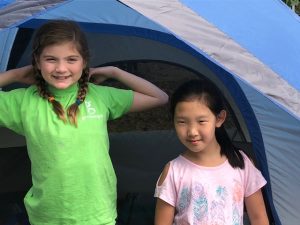 "[We] played tag, freeze tag, hospital tag, team tag…Everybody got trampled at least twice! It. Was. The BEST!!!" Henry
"We could stay outside as long as we wanted to. We made friendship bracelets and Betsy taught me how to crochet. I found a really big acorn." Maya
"My favorite part was going for hikes and playing in the creek." Daniel
Though lots of parent chaperones join in the fun, part of the experience for some students involves overcoming homesickness or coping with the discomfort of sleeping outdoors in a tent for the first time. They return with an "I did it" smile and a lot of emotional growth.
"…I got teary when I thought about my Mom…I had horrendously bad sleep the first night but good sleep the second…I liked the campfire stories. It was fun telling your own…I found this awesome rock, its on a table at my house now." Dylan
Fall Festival activities challenge our students to push themselves, try new experiences, and make connections not just with nature, but with each other. Emilie, CS teacher and veteran of over 20 Fall Festival trips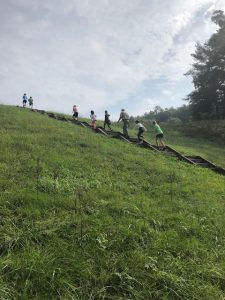 Whether they were here 5 years or 40 years ago, and no matter what profession they pursue, members of our school community always talk fondly about the importance of the time they or their children spent playing, learning and challenging themselves outdoors at Community School.
What did your child learn in school in October? Will it be an important part of your family memories in 40 years?