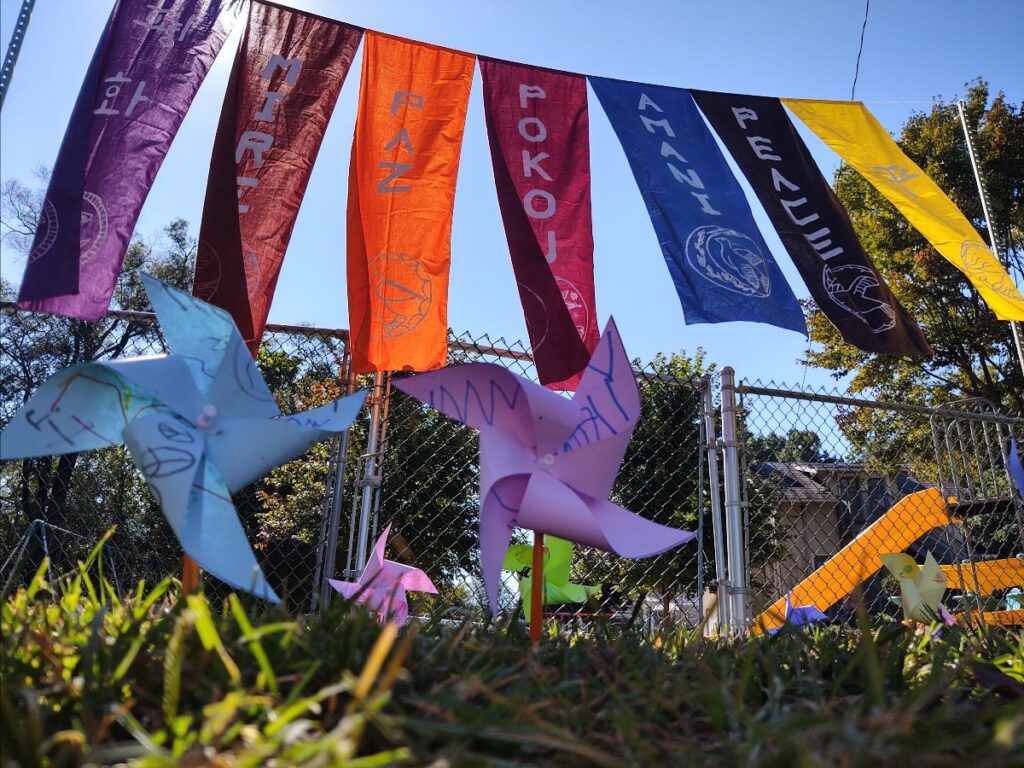 Our theme for 2022-2023 was Piece Together/Peace Together.

Our classes found brilliant ways to weave these themes into the curriculum. We pieced together puzzles, songs, constructions, calendars, poems, statistics, mosaics, and quilted fabrics. These projects wonderfully tied in art, math, literacy, Spanish, science, and music. I loved seeing all the different activities in the classrooms and also appreciated how our former teachers and parents returned to school to assist us. It has been so special to see them volunteer their time to enjoy your children and teach a new skill.
We found peace together as a school when we started the year celebrating International Peace Day with buddies through song and through showcasing our Pinwheels for Peace along our driveway.
We talked about the Big One and learned about friendships. We did not always recognize how difficult it could be to choose a peaceful path instead of lashing out at our peers when our feelings were hurt or we were frustrated and did not think we had been heard. We had to practice new skills and learn to apologize and forgive. We learned about our emotions and how we can regulate them with breathwork and meditation.
We made efforts to form new relationships and be more social. Our teachers started after-school clubs for different ages this spring, so in addition to art and ukulele, we had the Green Team, ultimate frisbee, Dungeons and Dragons, and a video game club.
We found new ways to honor Local Heroes in the Roanoke Valley by supporting their missions on campus, including encouraging composting and increasing awareness of the number of homeless students in Roanoke City. We went out into the community to make connections and feel part of a larger group. Students participated in food drives, clothing collections, gleaning, raising trout, and sharing our bilingual story hour. We painted murals and saw how local artists honored our city with their work.
Interested Middle School students went to Virginia Tech to see Alvin Ailey American Dance Theater, to Randolph College to join a Prejudice Awareness Summit, and to William and Mary to take part in a Model UN conference. For their spring trip, all MS levels went to Tybee Island, Georgia, to take part in scientific studies, and our older students continued to Atlanta to increase their understanding of the civil rights movement.
This has been a busy year, and as always, we try to find many ways to engage and excite your children and give them opportunities to explore their talents. It has been my pleasure to watch our students take on new roles as mentors, leaders, collaborators, ambassadors, mediators, and
explorers.

Linda Roth
Executive Director