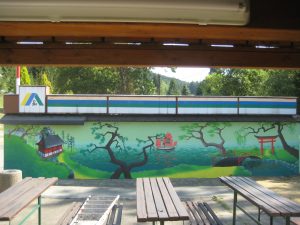 Alumni in Focus – August 2018
Beth Field
Beth Field (Seminar Class of 2001) is living in Austria and attending the Universität Wien /University of Vienna. She earned her B.A. in translation (English-German-Spanish) in 2016 and anticipates completing her M.A. in the same field in 2019. She also holds a B.F.A. with a concentration in screenwriting from the University of North Carolina School of the Arts.
Beth's CS education is reflected not only in her passion for foreign language and translation. She is also busy putting all those years of studying art with the venerable Cherry Chapman to good use. Beth is a gifted painter. She spent the past 5 summers painting murals for the Jugendherberge Sayda, a hostel in eastern Germany near the Czech border. While there, she also enjoys hiking and practicing her German. She recently sent us the attached photos of her murals.
Of her future plans, Beth notes, "I would very much like to translate novels, partly because I find the material more interesting to read in the first place, and partly because literary translation challenges one's creativity more and thus is more interesting to me." However, she doesn't rule out business translation and painting jobs to supplement her preferred literary work.